The built environment sector is undergoing a significant digital transformation; one that is making us rethink the way we work. At the same time new materials, fabrication techniques and building technologies are pushing architects, engineers and contractors to explore their design boundaries.
TTW is committed to developing and investing in the most advanced and innovative methodologies. We give our clients improved project efficiencies, cost reduction and risk-mitigation, plus wider design freedom to meet their vision. TTW Advance is the embodiment of such commitment. We are a multi-disciplinary team that tackles challenging projects and works closely with clients, architects and contractors in making their most ambitious designs a reality.
Our TTW Advance group combines advanced simulation and computational design methodology with our background in buildability, creating design options that consider all the elements and details simultaneously.
Optimisation
Our TTW CBD PLANNING PLATFORM identifies sites or amalgamation of sites with high commercial viability. The tool uses large amounts of data and applies local development controls to generate potential building envelopes. This functionality is used to identify multiple site configurations that benefit from changes in planning controls or that fulfil parameters relevant to the client.
Once a building envelope is selected, our platform is capable of generating initial layout of commercial buildings for feasibility studies. This layout is coupled to our core optimiser, which size walls and other structural elements while aiming to maximise the building's NLA and structural efficiency. Finally, an automated report is created detailing the findings of the study.
Advanced Structural Modelling, Analysis and Simulation
Most engineering design of structures makes use of simplified procedures as set out in our design standards. We use these in our "everyday" work as they are adequate in most design scenarios and are relatively quick and easy to apply. However they are often based on conservative "one size fits all" assumptions and generalisations, and therefore there are opportunities to utilise more advanced analysis techniques in their place. These allow the explicit simulation of how structures and the underlying building materials respond to loading and other conditions, and to demonstrate their performance and compliance with the design standards and the National Construction Code (NCC).
The software and workflows we use allow the assessment, prediction and visualisation of, for example, crack widths/locations to full collapse load for a reinforced concrete structure. This sort of detailed assessment is not common in the industry, not straightforward, and draws on the experience and expertise of our team.
This work is always undertaken in accordance with compliance and certification requirements.
This service can benefit projects in the following ways:
Design efficiency – All potential load paths in a structure can be shared and mobilised with fewer assumptions being made. This can lead to savings in materials and complexity.
Design reviews – If a design needs to be checked or verified using an alternative means.
Design justification – If a structure or part of a structure is called into question by conventional design methods, especially if it has already been built.
Forensic engineering – If an adverse event has occurred, its likely root cause can be investigated.
Some scenarios where our work can be applied:
Advanced structural analysis and design of concrete and masonry
Seismic assessment, design and retrofit
Heritage/historical masonry structures
Vibration and structural dynamics analysis, monitoring and testing
Ground-structure interaction, movement and damage assessment
Thermal and fire analysis of concrete structures
Concrete durability and corrosion
Stability of structures
Fatigue analysis and design
Staged construction analysis
Nonlinear FE simulation assisted in verifying the load paths, stress concentrations, strength and drift capacity of the core wall, as well as predicted crack spacings and widths in the concrete. This kind of analysis is able to predict the performance of a structure and assist designers in proportioning concrete member sizes and detailing of reinforcement.
Concrete and Masonry Examples
A series of examples of our work are shown below: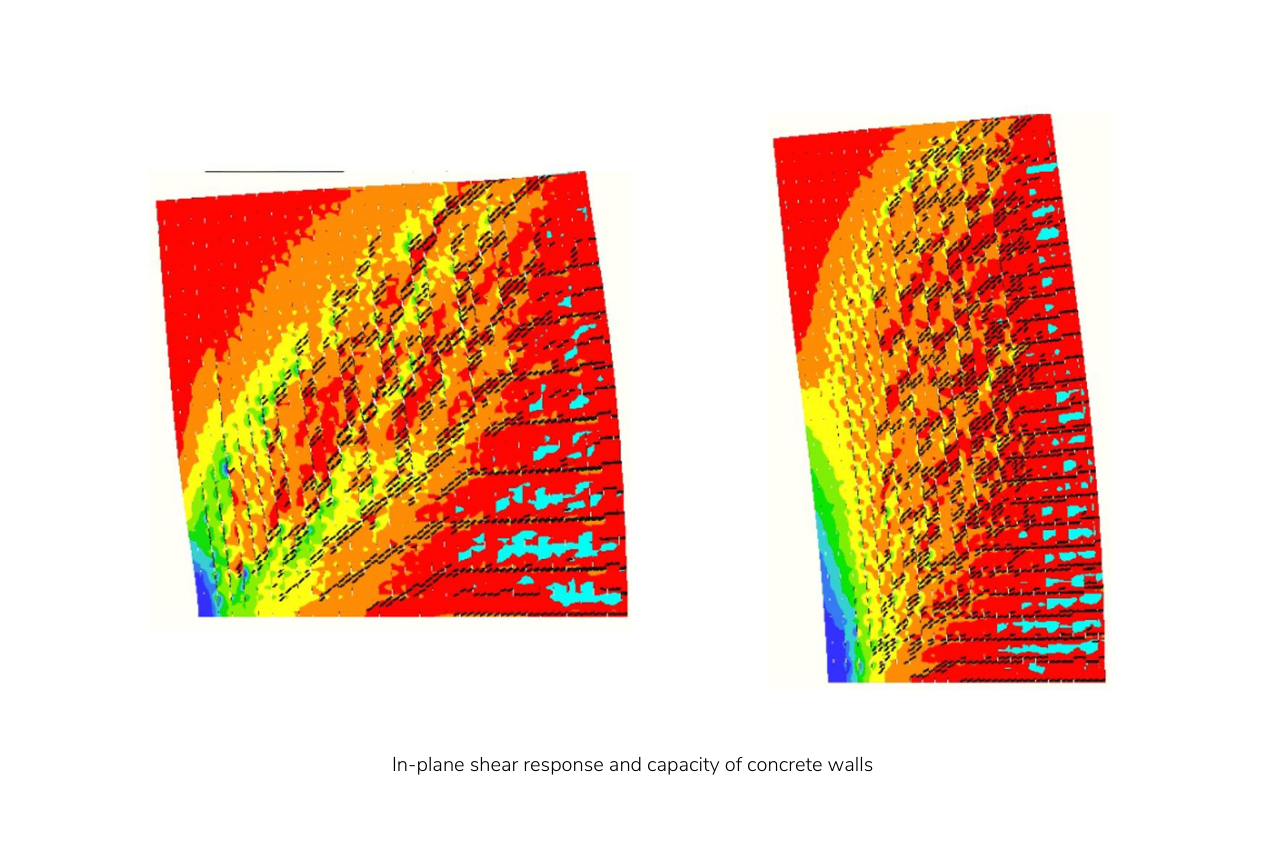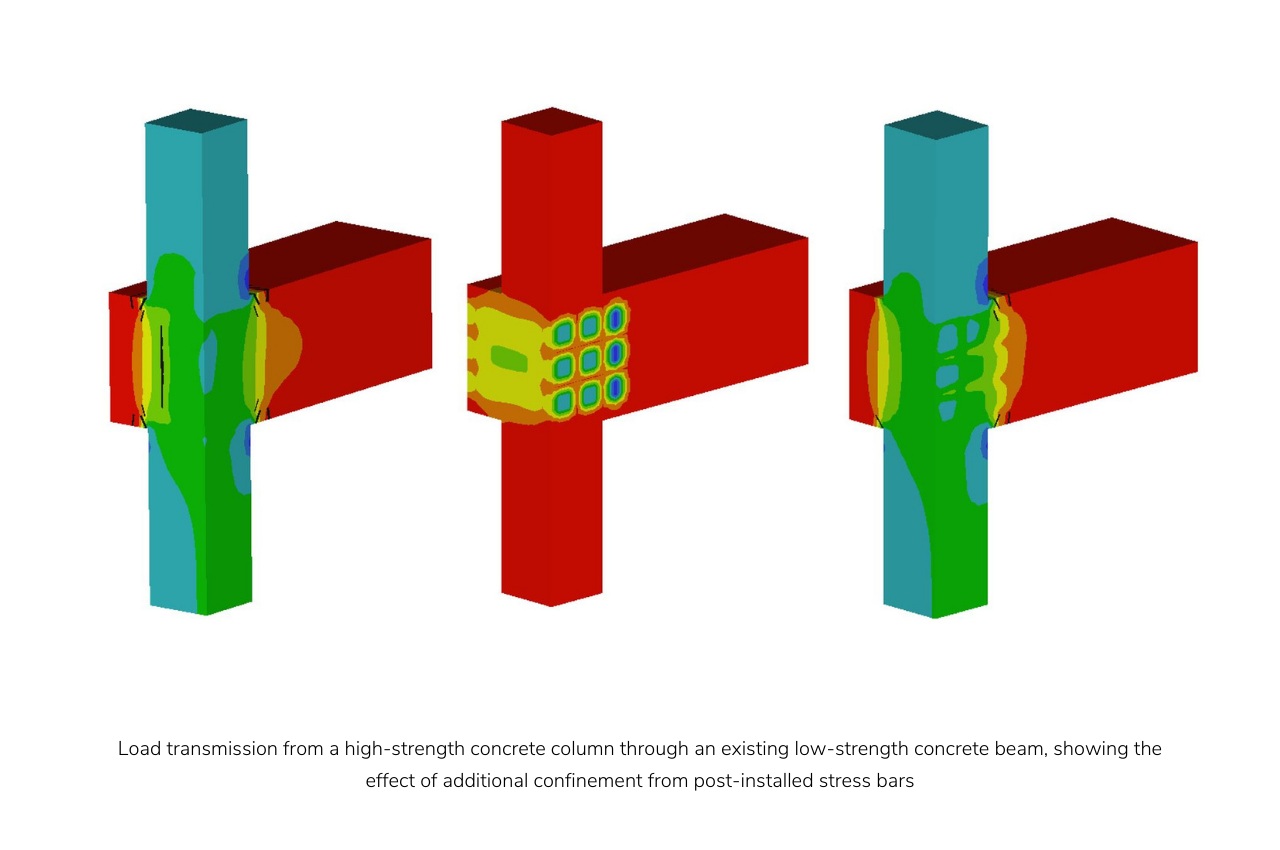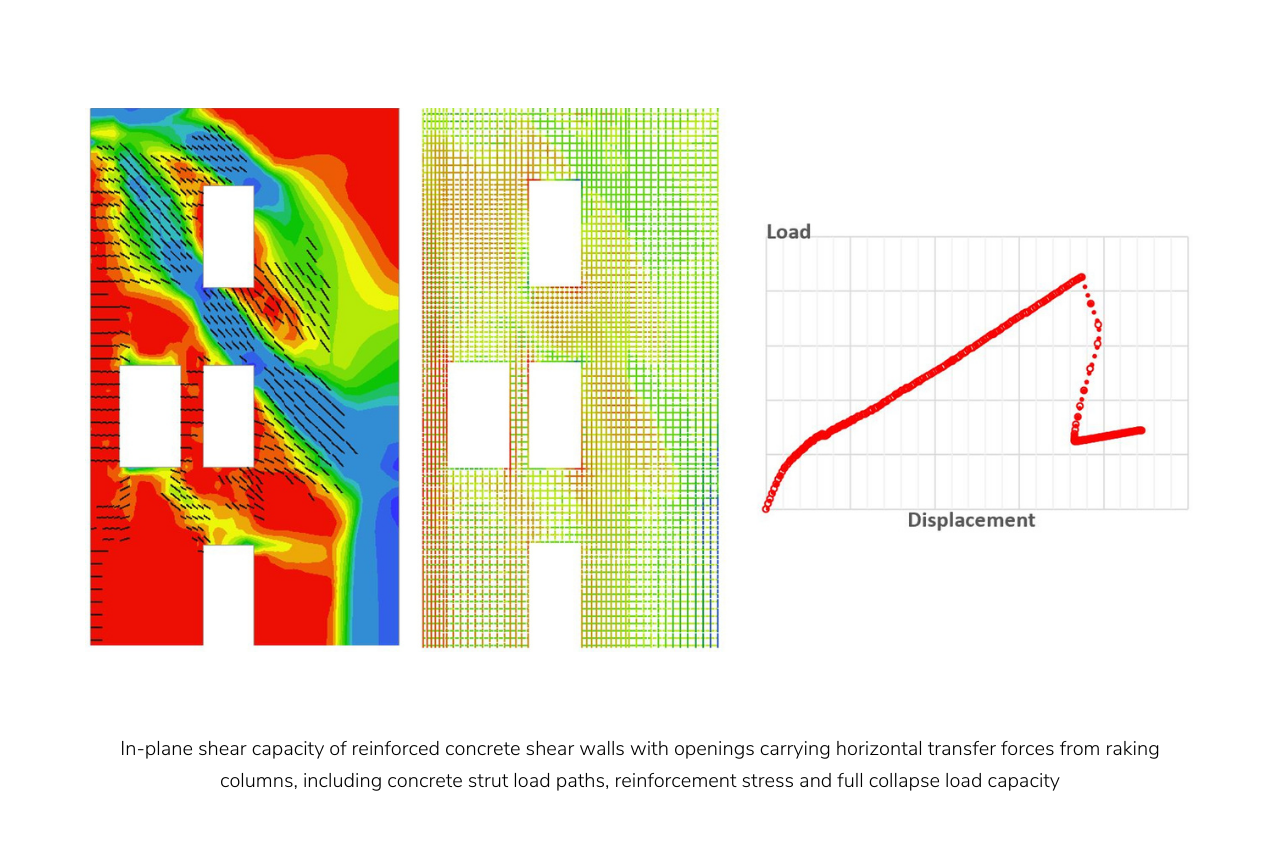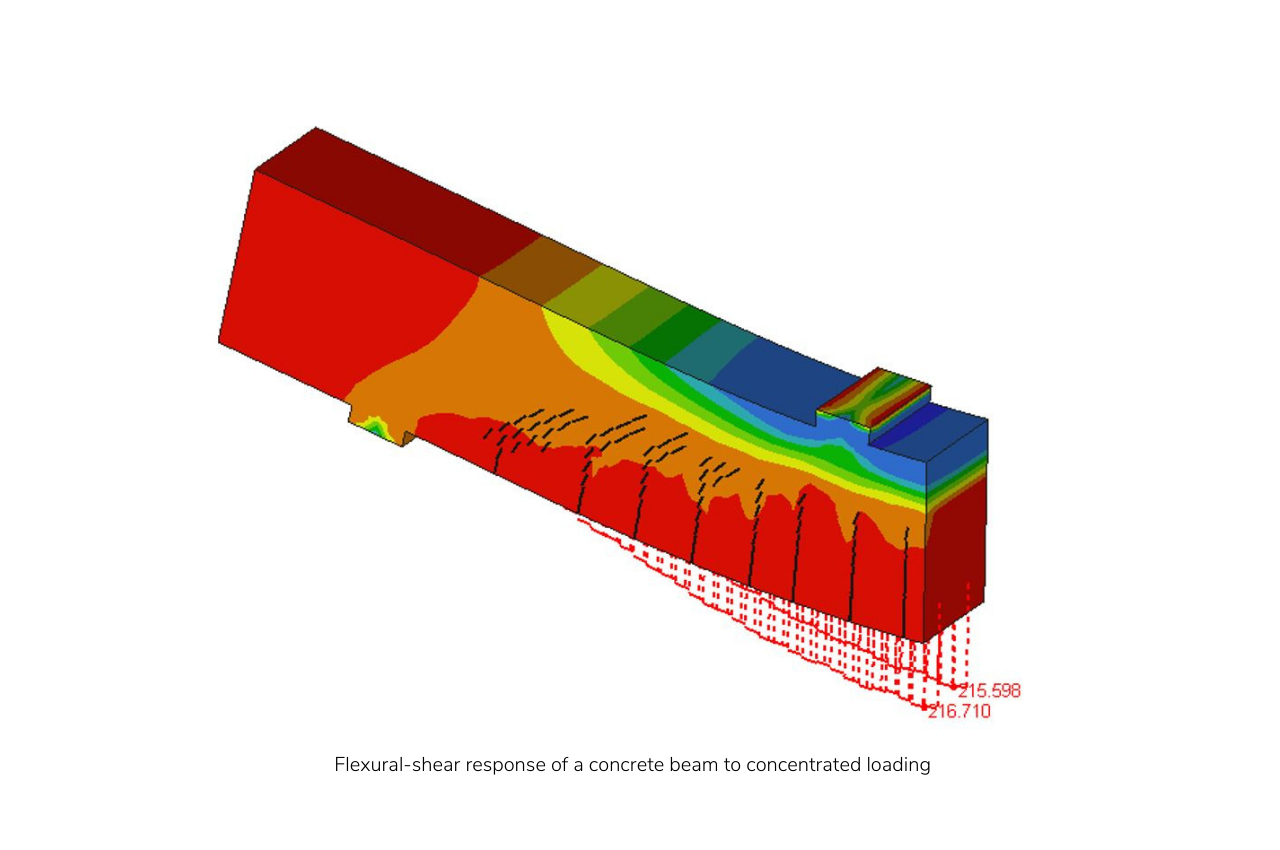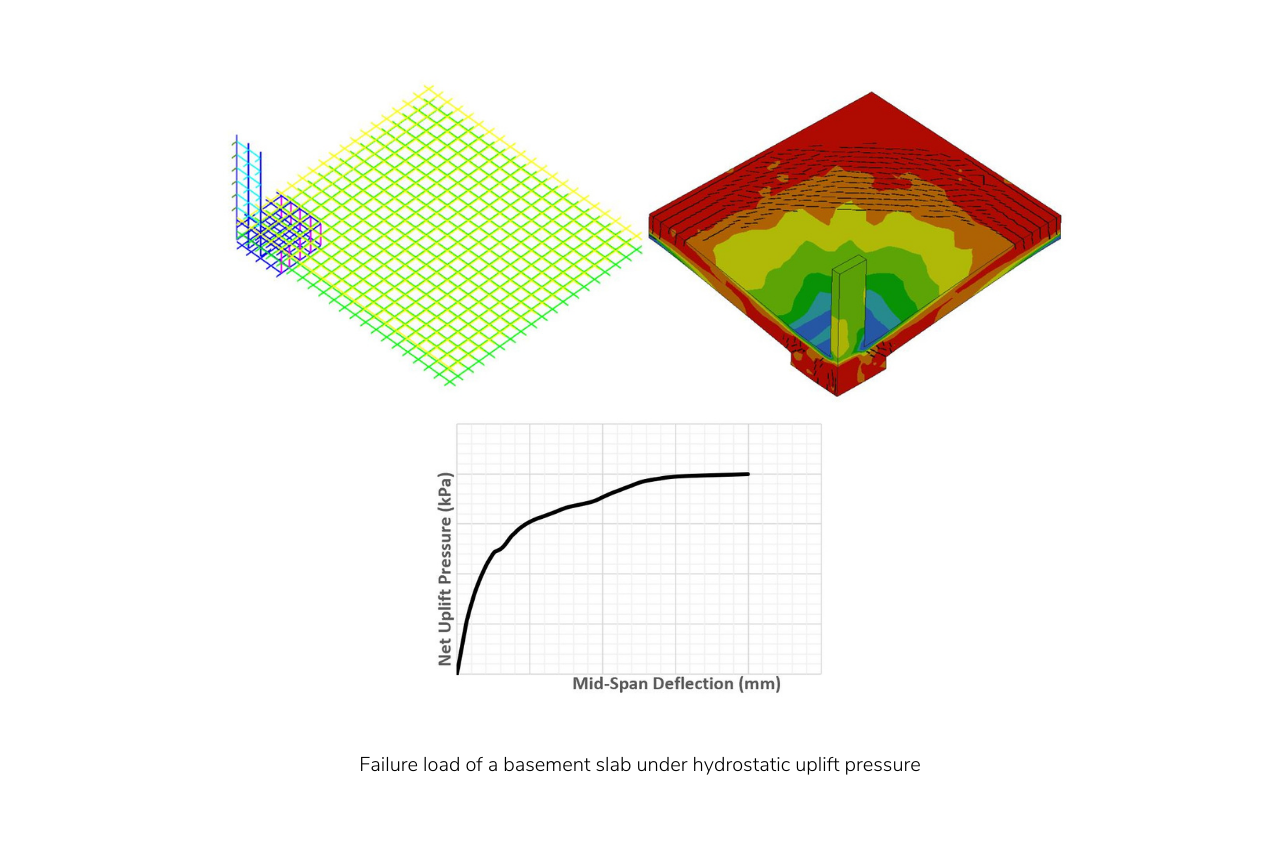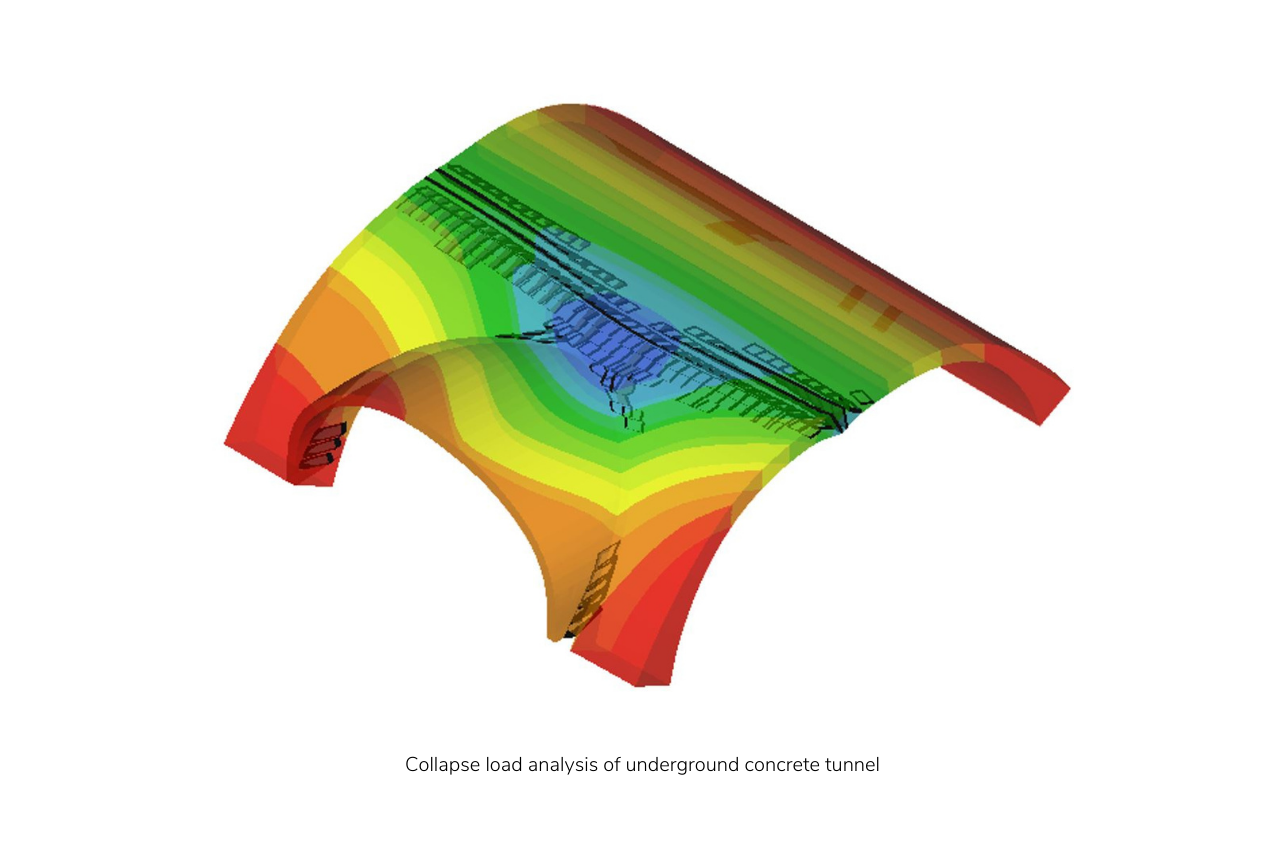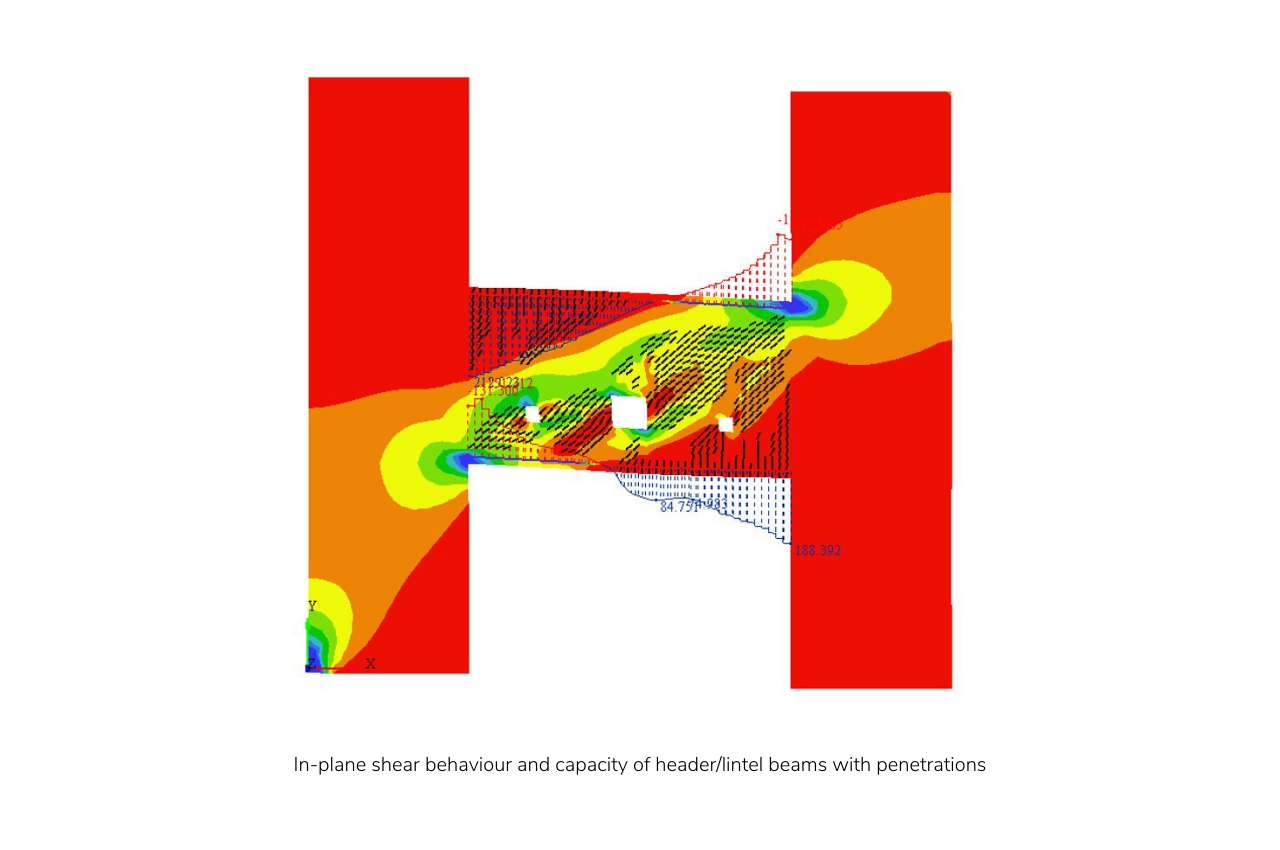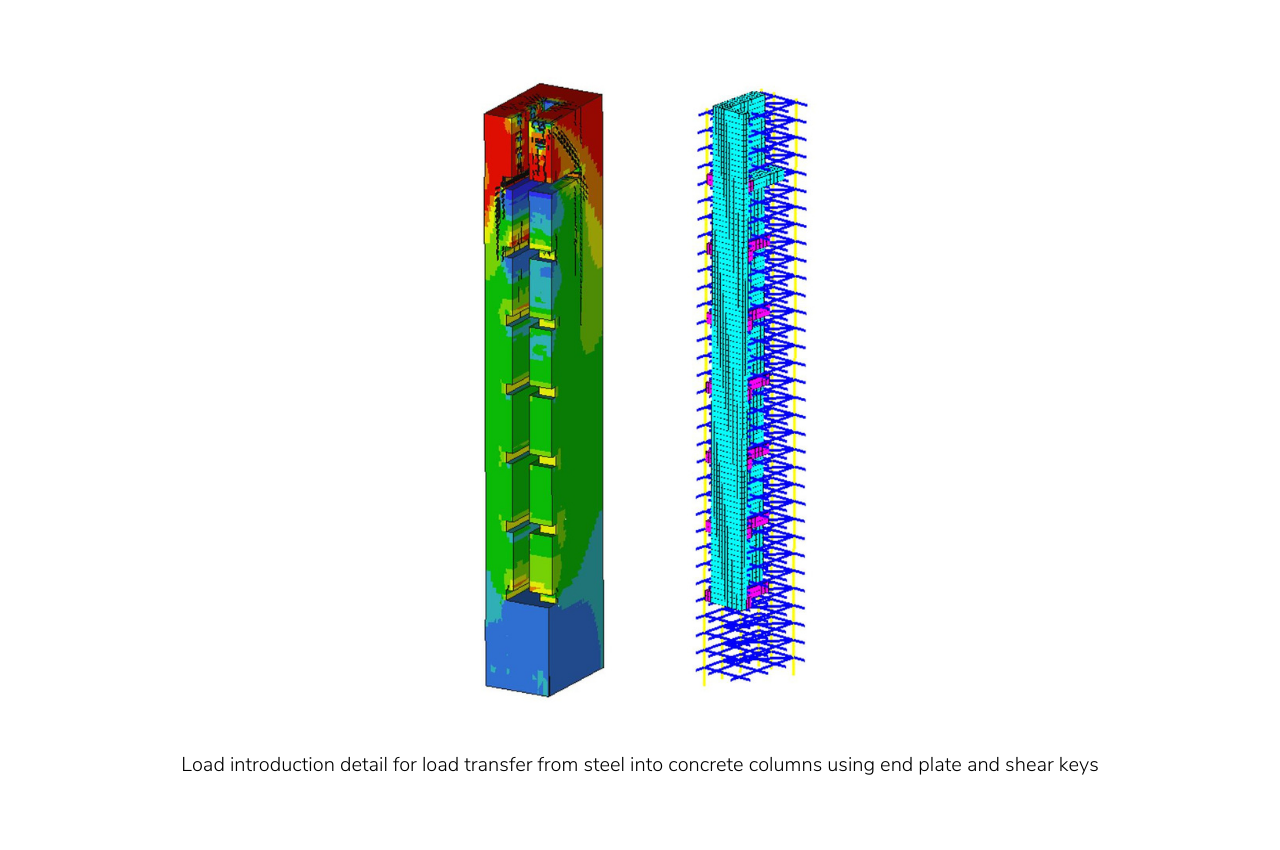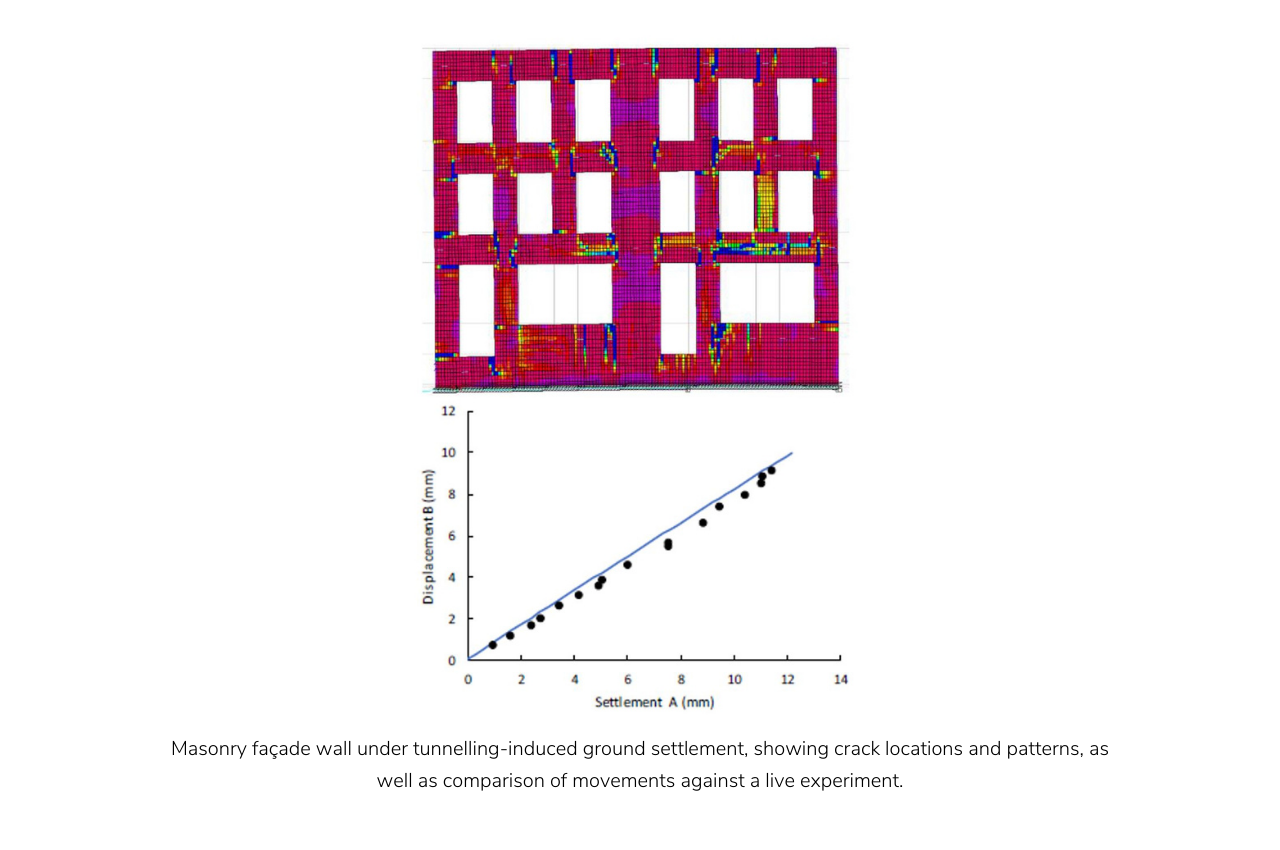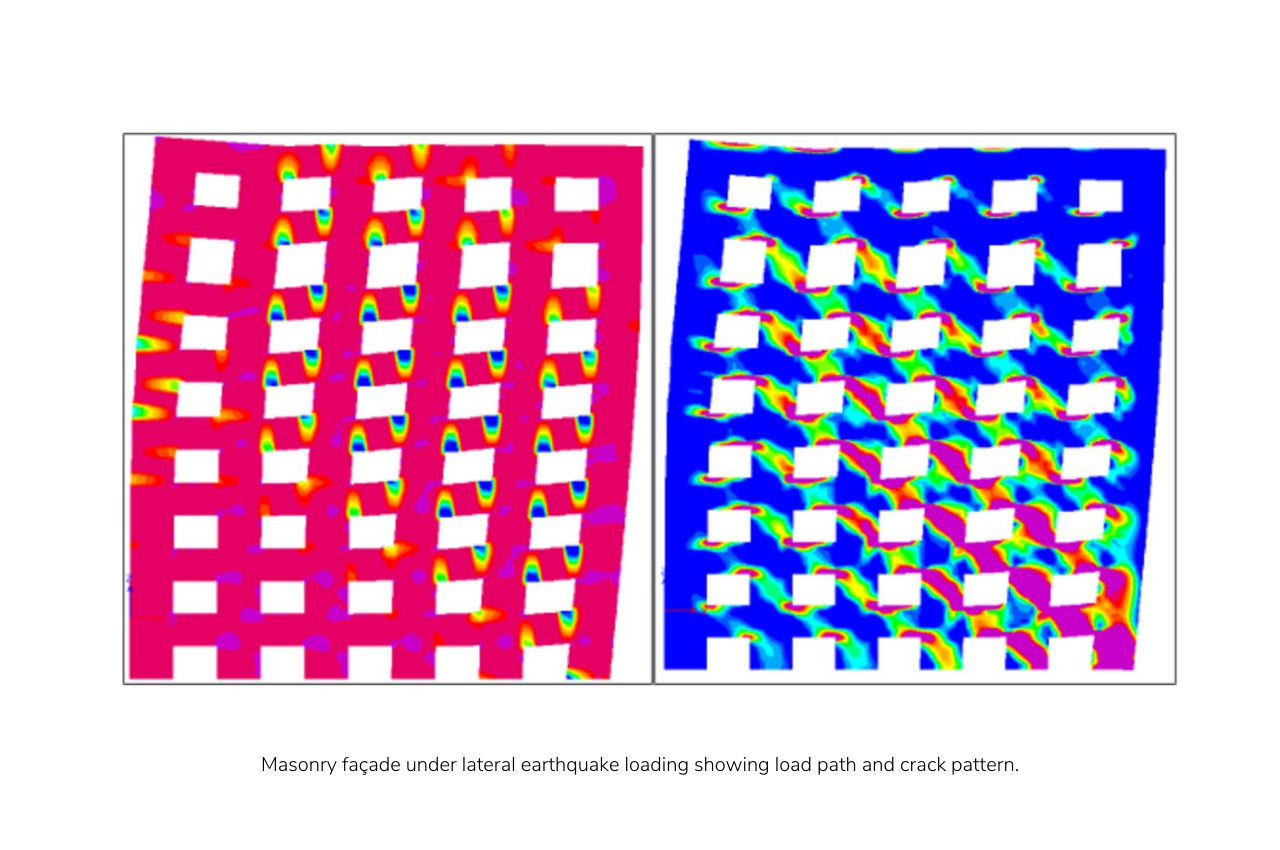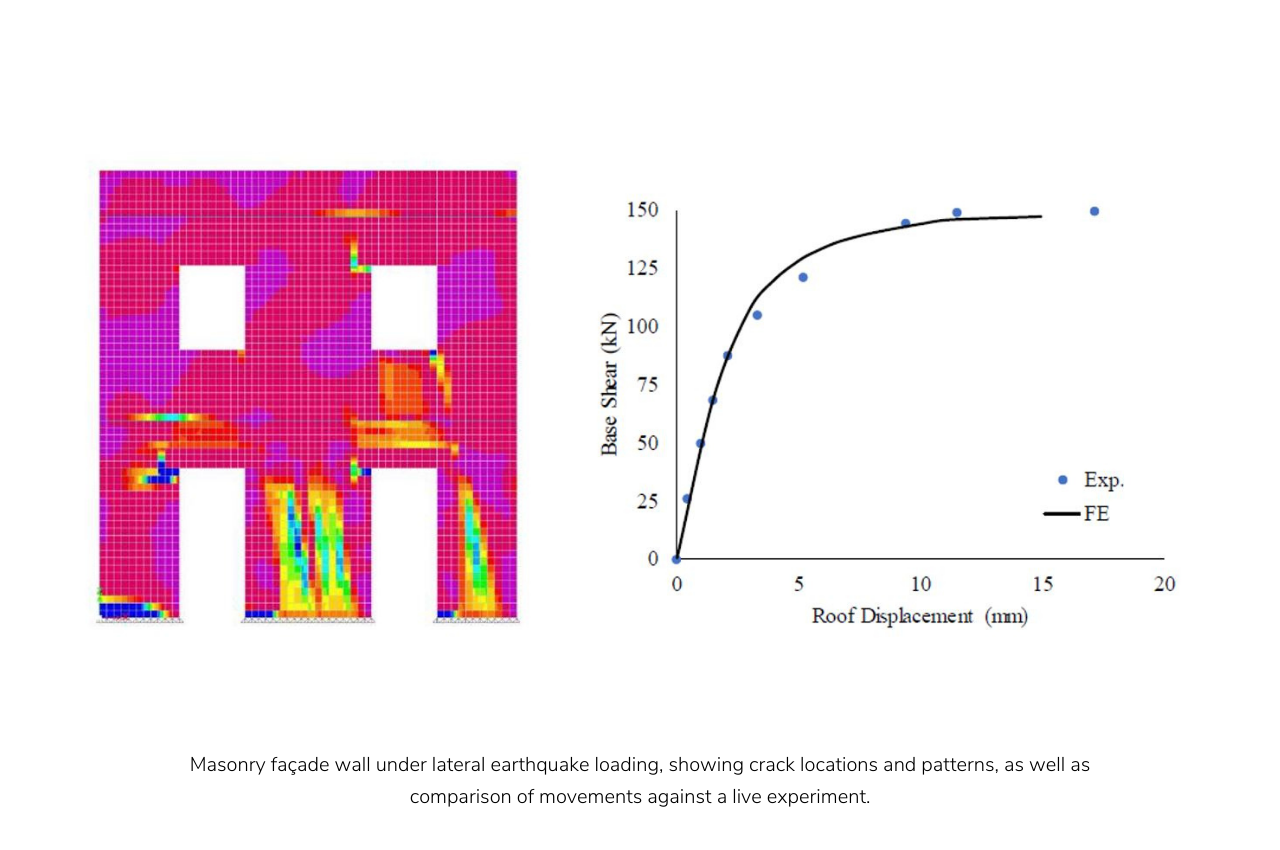 Expertise
Parametric engineering
Automating our engineering workflows allows our professionals to explore more solutions and provide a greater level of structural input to the design from concept stage through to completion to realise design intent and facilitate fabrication. This streamlined process allows for geometry adjustment right up to fabrication, with automatic analysis and design updates.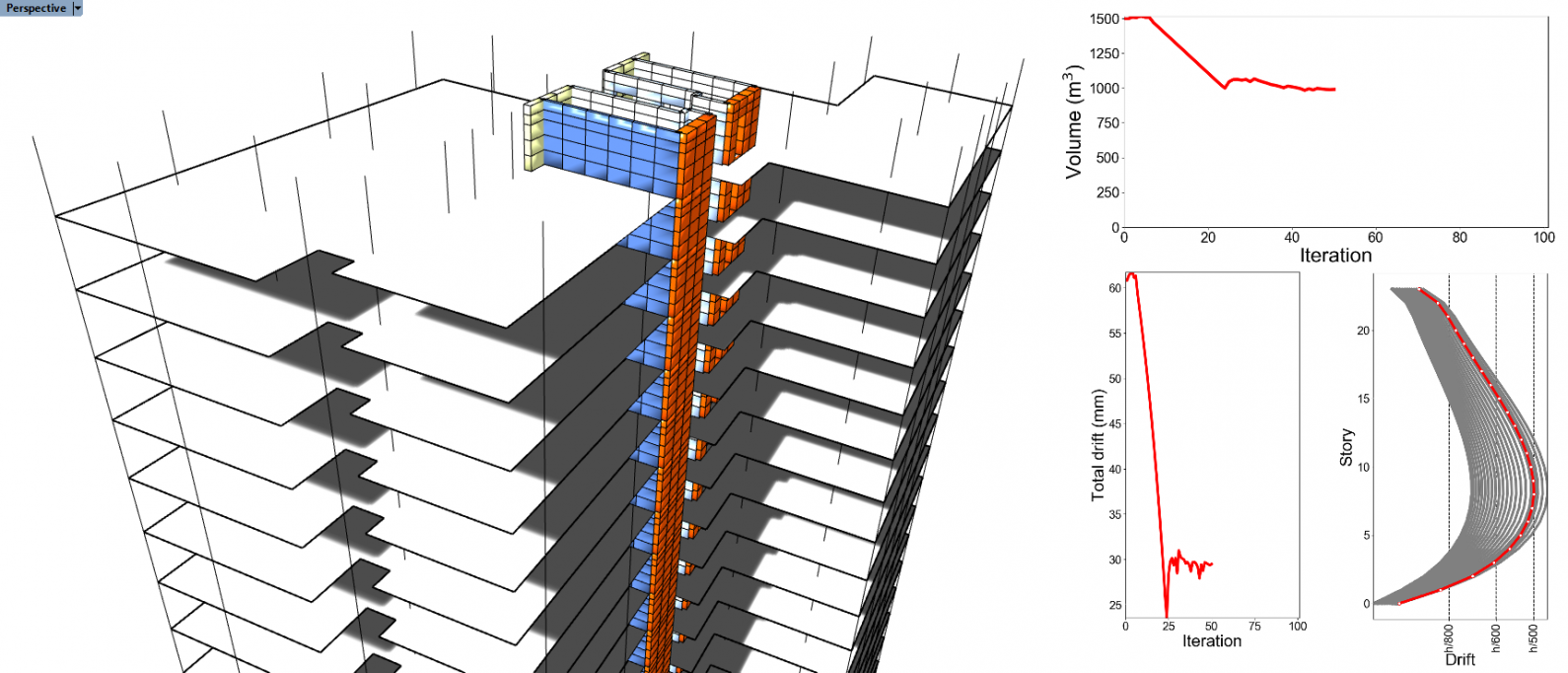 Geometry
We provide solutions to complex geometry problems that improve buildability and reduce costs while sustaining architectural intent. We rationalise complex geometry to standardise panelisation, node connections and secondary framing, while optimising forms and envelopes to enhance structural performance, shading and comfort.
Interoperability
Understanding data and its intricacies is vital in contemporary engineering. We develop workflows of data from CAD to analysis to documentation, adding accuracy to the process of exchanging information and saving time.
Software
As well as the competent application of commercial software packages to tackle various engineering challenges, our engineers have developed tools that extend the capability of traditional modelling by further leveraging algorithms in the generation of geometry, analysis and design.
R&D and Education
We are committed to ongoing research and development – continuously seeking to improve the level of service we offer to architects and clients. We continue to invest in class leading processes and software and supplement this with in-house software development to enhance our workflows. Efficient workflows allow many thousand design options to be tested quickly and efficiently. By exploring the design landscape and producing intuitive visualisations, our clients can make informed decisions based on detailed analysis and sound engineering principles.